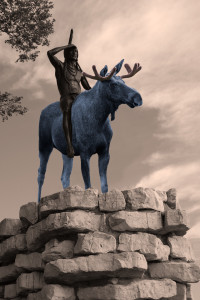 For over 15 years, the Blue Moose has endeavored to be the finest upscale casual restaurant in the neighborhood. We remain dedicated to providing a friendly staff who serves hand-crafted cocktails and delicious fare from our scratch menus. We take pride in providing an atmosphere where our guests feel comfortable, worry-free and feel at home when frequenting. Locally owned, locally operated, we are your local Blue Moose.
The Legend of the Blue Moose
The legend of the Blue Moose started over 15 years ago in the neighborly confines of Prairie Village, Kansas. Stories of this tall, darkish blue beast with huge antlers quickly spread throughout the area. Grandparents told their grandchildren tales of the elusive and mysterious Blue Moose, most claiming to have personally seen him off in the distance on a cold and foggy night. Of course, when speaking of legend, one can never be too sure of what separates fact from fiction. Some say he still walks his original beat, sticking to the shadows. Others claim that they have seen him with a band of gypsies roaming as far west as Topeka. Tales of a kind moose doing good deeds have become part of Kansas folklore. When something good happens in Prairie Village, Overland Park, Lenexa, Topeka, Manhattan, Lawrence or Kansas City, it is now customary to look to the ground for the slightest evidence of hoof prints. Though now he eludes us, the paradox of his presence propels our patrons to have a good time, every time – at The Blue Moose.

Hours
MON: 11am-11:30pm
TUES: 11am-11:30pm
WED: 11am-11:30pm
THURS: 11am-12:30am
FRI: 11am-12:30am
SAT: 11am-12:30am
SUN: 10am-10:30pm
Apply For An Hourly Position At
The Blue Moose Bar & Grill
Apply To Be A Manager At
The Blue Moose Bar & Grill

KC Hopps Gift Certificates
Are Available Online
Subscribe To Our Mailing
List For Specials And Events
Register Your Guest Rewards Card
Manage Your
Guest Rewards Account